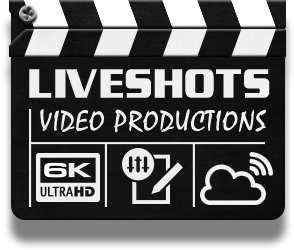 Infomercial Business Promotion Videos
Does your business have a page on social media? Promotional videos can be the best way to present your service; by sharing it with relevant groups and using Facebook's targeted advertising service.
The biggest sway on peoples first impression of your company's quality, is of course going to be the video quality. Cheap and nasty or professional and classy? Shot with UHD cameras, correct lighting, and recorded with high clarity microphones, then edited in Adobe's "Premiere Pro" video editor.
Verbaly; we can overdub tight edited narration to video tours and demonstrations, or you can speak directly to the camera during your presentation. We have clip-on 'lavalier' microphones to hand (like you see used on TV panel shows and news rooms), or we can mount an overhead microphone out of frame - which ever suits the scene best. All this undergoes hiss/noise reduction and tone editing to get the best sound out of your voice.
Any mis-spoken lines, or moments to check your notes or take a breather are cut out using the standard method of switching to a different camera or crop to disguise the cuts in your speech flow. Whether you look directly into the camera, or off to the side depends if you want to come accross as boldly addressing the audience, or as if we are listening in to your conversation with someone else. It is a grey area.
Short and Sweet or High Detail?
Both. We will cut a 1-2min brief from a longer video with more details and longer demos. Post the brief to the social media with a 'Click here to watch in full' link to YouTube.
Depending on your budget, this could be a straightforward 'Talking head' speech in a well lit room, or we can start adding brief clips which display what you are talking about. These seperately filmed, visually descriptive video clips are known in the industry as 'B-Roll'. In the Liberatii video above this chapter, Nima simply spoke about the service he provides. This is the first stage in a bigger project, give it a watch and imagine when he describes "speaking to CEOs" within the first 20 seconds, I could drop in couple of seconds of silent footage of him at a desk, doing just that, with no interruption to the audio channel.
First Time Talking To Camera?

I found some good advice on preparing yourself for what a lot of people will find a nerve-racking experience; talking to a camera lens and being surrounded by lights and microphones. If you are not experienced in being filmed speaking, take some good tips from Thomas Alex Norman here.
Stop-Motion Video for Construction & Maintainance Trades
'Stop Motion' animation is the perfect way to show the efforts of your full day's work in a short video that won't bore anybody. Our camera(s) can be set to consistently take a photo every couple of seconds, for hours, and these high-quality photos are then used as frames in a fine edited super-speed video.
Logos, descriptive captions, narration and ⁄ or music & sound effects can be added to the video format.
The video shown here was produced this way for the assembly of the boxing ring at the 'Switch' nightclub when we were hired to film the fights.
Are you a brick layer, a decorator, a gardener, or work in any other trade which transforms an area slowly but surely? Get in touch for a short video to share your skills with the public in 30 seconds!
Sports and Gym Training
The active demonstration can be filmed using multiple cameras, with a combination of wide angle and zoom lenses. Shot with multiple takes for the tidiest composition in post-production. If relevant, the videos can be shot at a high frame-rate in order to get smooth slow-motion replay moments in the edit.
What about sound? You don't need to empty the gym to lose the background noise or be short of breath as you talk; record your vocal narration afterwards in a suitable sound room then video scenes are cut to match your narration (or vice versa).
Personal trainer?
Directed filming of various activities
Record the promotional narrative about each of those activities afterwards
The footage is switched as you change subject in your speech
The appropriate reverb is applied to your narration to simulate the size of the room on camera.
Add background music and enhanced sounds of the exercises
Video Tours
Take our stabilised camera on a tour around your workplace, with carefully composed filming of each feature. As with the personal trainer's method; you don't need to read your spiel as the filming takes place. The rooms' resonance may not sound good through the microphone or you may stumble some words, so you're best off showing the camera man to the hotspots while the video is shot. You can then record your narration carefully and clearly and have it overdubbed.
If you would rather face the camera and be the on-screen presenter rather than an out of sight narrator; you can still benefit from our production methods by cutting neatly from one room or hotspot to the other, with each angle lit and framed correctly. Don't waste time walking down dark corridors or swinging cameras around from point A-B. Get it done properly and give your business the best first impression.