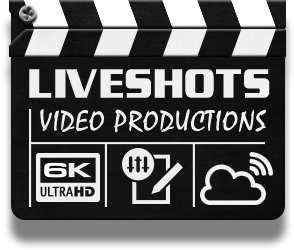 Promotional & Biography Video Interviews
Do you have a new album due for release, or a tour in your diary? Do you want to offer yourself to bands with a bio & demo video?
LiveShots are now offering professionally filmed and edited interviews to help promote your work with social media video platforms. Our multi-camera setup allows for angle switching from you to the interviewer rather than swinging a camera around between Q&A. Depending on budget; use of studio umbrella lights and LED lighting panels ensures a stylish brightness for top camera clarity, and there will be a sound engineer with discrete clip-on and overhead condenser mics for hands-free discussion with a single interviewee or a whole band.
Prepare the questions you would like to be asked, arrange your interviewer, or pick an interviewer from our list of big names in the local music scene for more social media attraction for just £30.
Our Special Interviewers:
Editing options
We offer 4 customisable budgets for these interviews, one of the main elements being the post-production editing of the conversation. Remember, unless you have a serious fan-base, people may lose interest after 2-3 minutes.
Stumbles and re-takes of a question will get removed.
You will get a preview of the interview and you can tell me the time slots that you deem unessential.
Super-concise; As well as the above, I will do my best to remove those "Umm..." "Well..." pauses for thought, to cut to a tight Q&A.
Long and slow spoken interviews can be sped up around 10-20% without seeming un-natural, simply swifter. The pitch/timbre of your voice is protected using a specialist time processor in Sound Forge.
See more details about production options and costs.
Closing Performance
An interview promoting music obviously needs some music, and an interview would attract more attention with a live performance. If shot in a suitable location, we can close the interview with a band performance of your most popular song.
An alternative for a reduced price would be
A) Sing live, over an instrumental edit of the recording
B) Sing and/or play with a single instrument. More suitable for soloists and band seekers.
Depending on the size of your band and the instruments involved, this and the interview may have to be done in either a music venue or rehearsal studio. If you already have some top-quality live footage of the music you are promoting, this can be used instead and maybe enhanced by our audio/video editors.
Additional Media
Show what you are talking about; if you are promoting your new album, let's get some footage in the studio to add to the interview edit. Overdubbing music alone isn't going to be too effective - you need a visual representation, even if it is just a photo slide-show.
We can film a recreation of the studio recording, or the sound engineer giving a channel-by-channel breakdown of a song from the mix. Anything like that gives an alternative visual for the music while it plays, as opposed to being stuck with the interview camera watching you listening to it.
Any audio clips, photos or video footage can be included directly into the post-production to avoid the compromise of pointing cameras at screens, or microphones at speakers. Text such as subtitles and web addresses can be included in the edit.
Resulting Media
You can get your interview production in Full HD, Facebook and Instagram* compatible video, plus MP3 audio formats, sent to you via WeTransfer on completion.
*Instagram: According to current Instagram specification the max video length is 1 minute and the best presentation resolution is with vertical video. With Medium and Premium budget productions; we will create a vertical cropped version and divide your interview neatly into fitting portions, but you should provide a YouTube link to the closing song.
You can use and share this how you like, but please do not re-edit our production. If you are unhappy about anything, please contact us to make adjustments from the original footage. This is usually free in order to keep the quality at it's best. If you re-edit for something like cutting out a portion or changing the brightness, you need to remove the LiveShots logo in the closing credits, as it is no longer our production. Alteration and re-saving of a highly compressed format like streamable MP4 can seriously compromise the image quality.
We don't introduce legal copyrights and royalties with un-signed musicians, Click Here for more details on that.